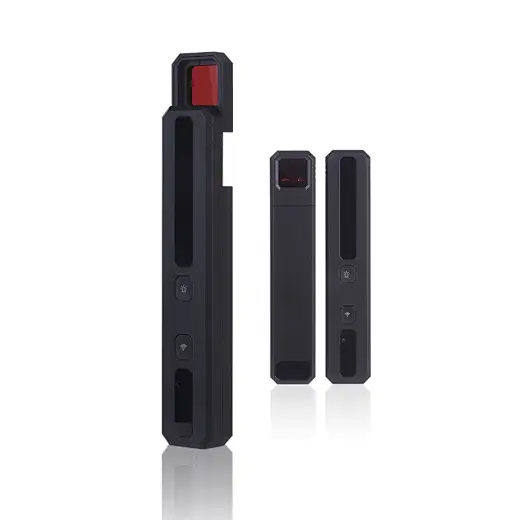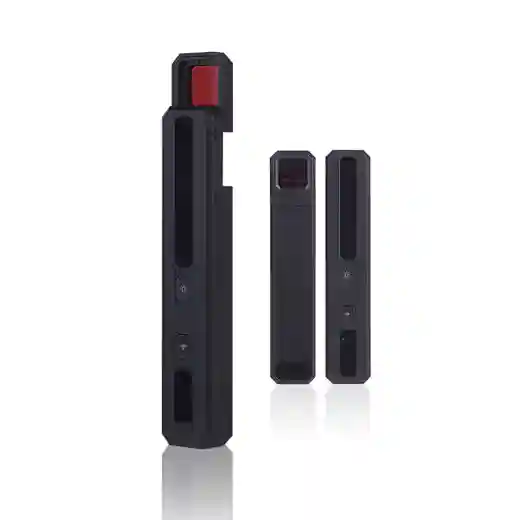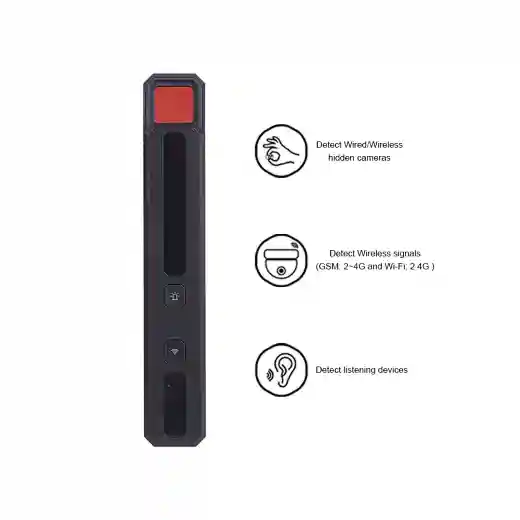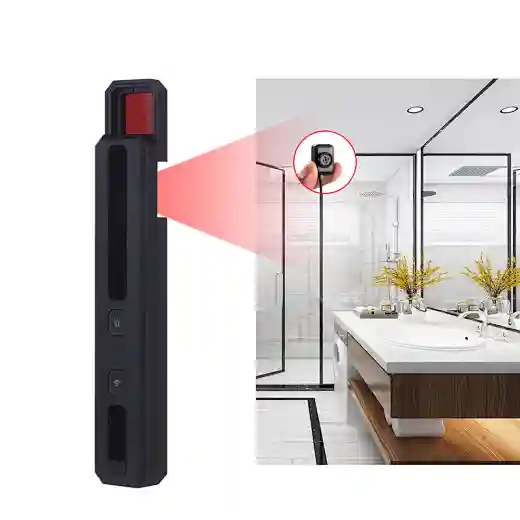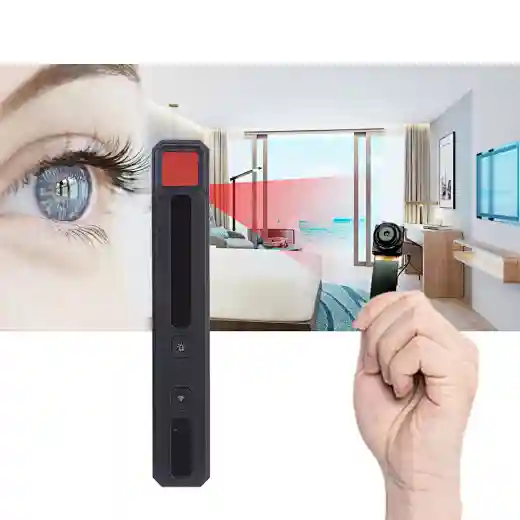 Hidden Camera and Wireless Signal Spy RF Bug Detector
AI-DE08
Detect hidden cameras
Detect wireless signals
Detect listening devices
Mini portable pocket sized
Lightweight battery powered
Supply Ability
1000set / Month
Country of Origin
shenzhen,china


This RF Bug Detector is for personal privacy protection. The bug camera detector included help assist in sweeping the unauthorized surveillance devices, that could be invading your private space at home and office, or during travel and shopping,etc.
Not only it can detect hidden cameras by 4 different frequency infrared LEDs, but also the wireles signals(GSM:2.4G-4G and Wi-Fi:2.4Ghz);As well, it Alarm by vibration or buzzer. Let illegal devices have nowhere to hide, to protects your privacy anytime anywhere!
Small size ad easy to carry in handbag, key chain, suitcase or briefcase. It is a travel and accommadation hotel in a bag, carry it with you.

Detect hidden cameras
Detect wireless signals (GSM:2.4G-4G and Wi-Fi:2.4Ghz)
Detect listening devices
Mini portable pocket sized
Lightweight battery powered
Professional detection device, high sensitivity
Battery-Operated and Portable
Ultra-bright Powerful IR LED lights

Wireless signals detect:(GSM:2.4G-4G and Wi-Fi:2.4Ghz)
Signal strength indicator: 7-level LED to show 7 signals strength levels
Hidden camera detector strength: 4 levels
Battery capacity: 950mAh
Charging time: About 5 hours
Power consumption of Mode 1: 20mA
Power consumption of Mode 2: 50mA
Battery life of Mode 1: About 40 hours
Battery life of Mode 2: About 16 hours
Packing list:
1 x Spy RF bug detector
1 x User manual
1 x USB cable
1 x Test lens
Product size:2.4*1.5*12.3(CM)
Color box Size:13.5*9.7*2.5(CM)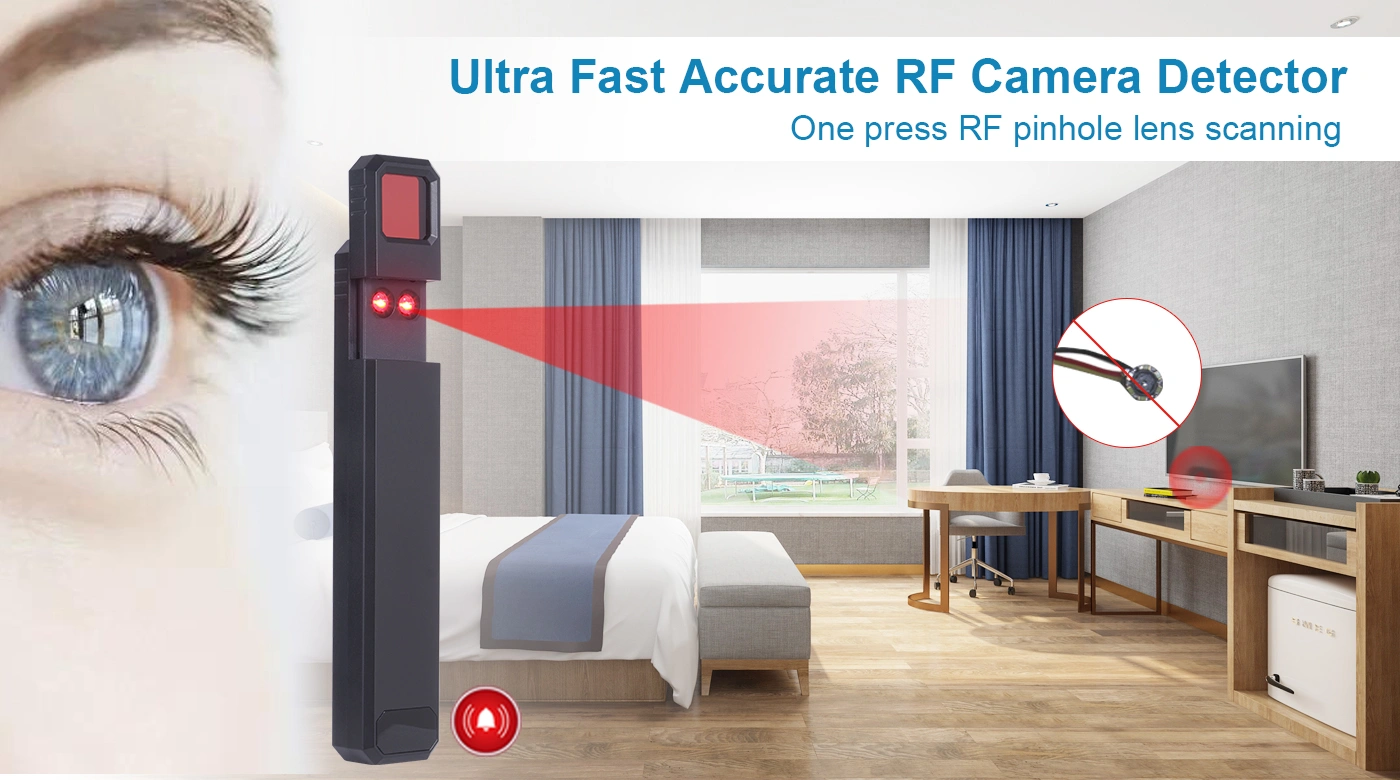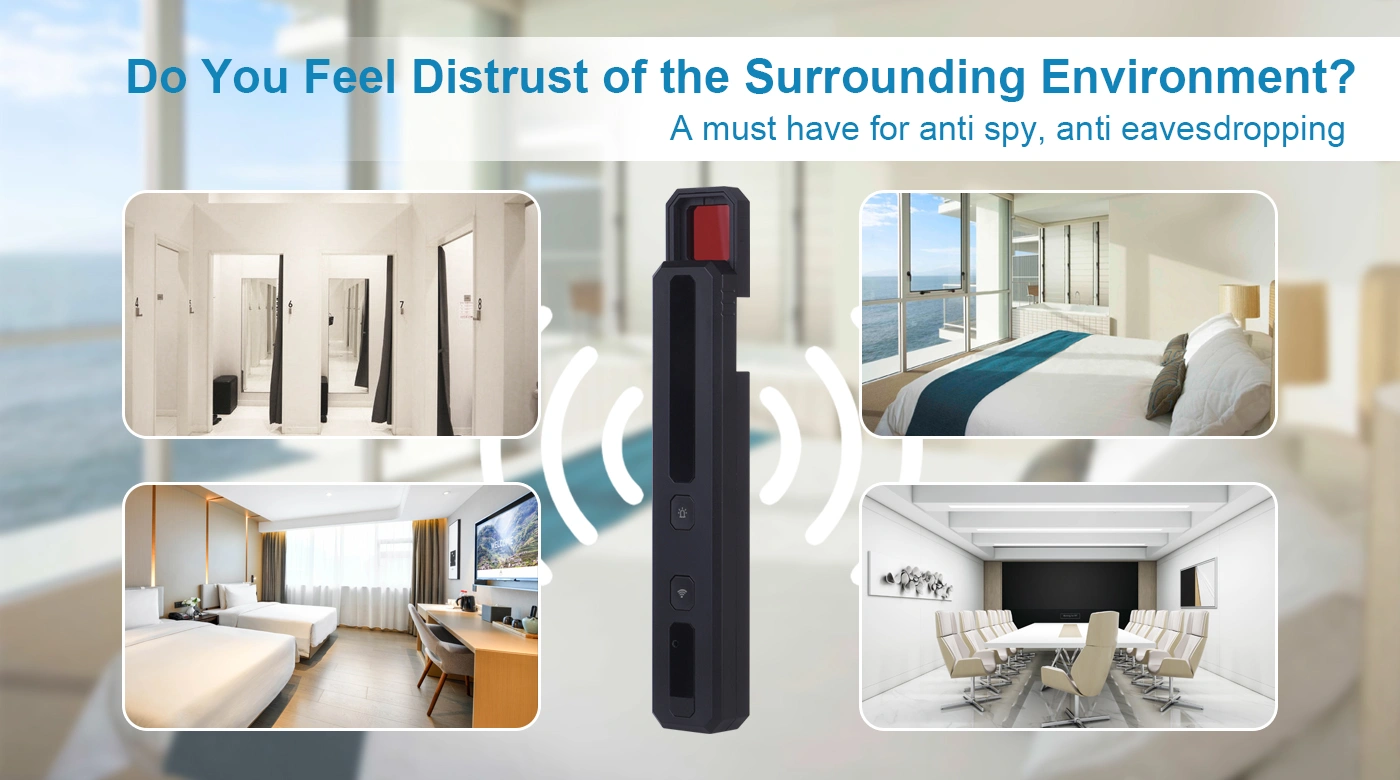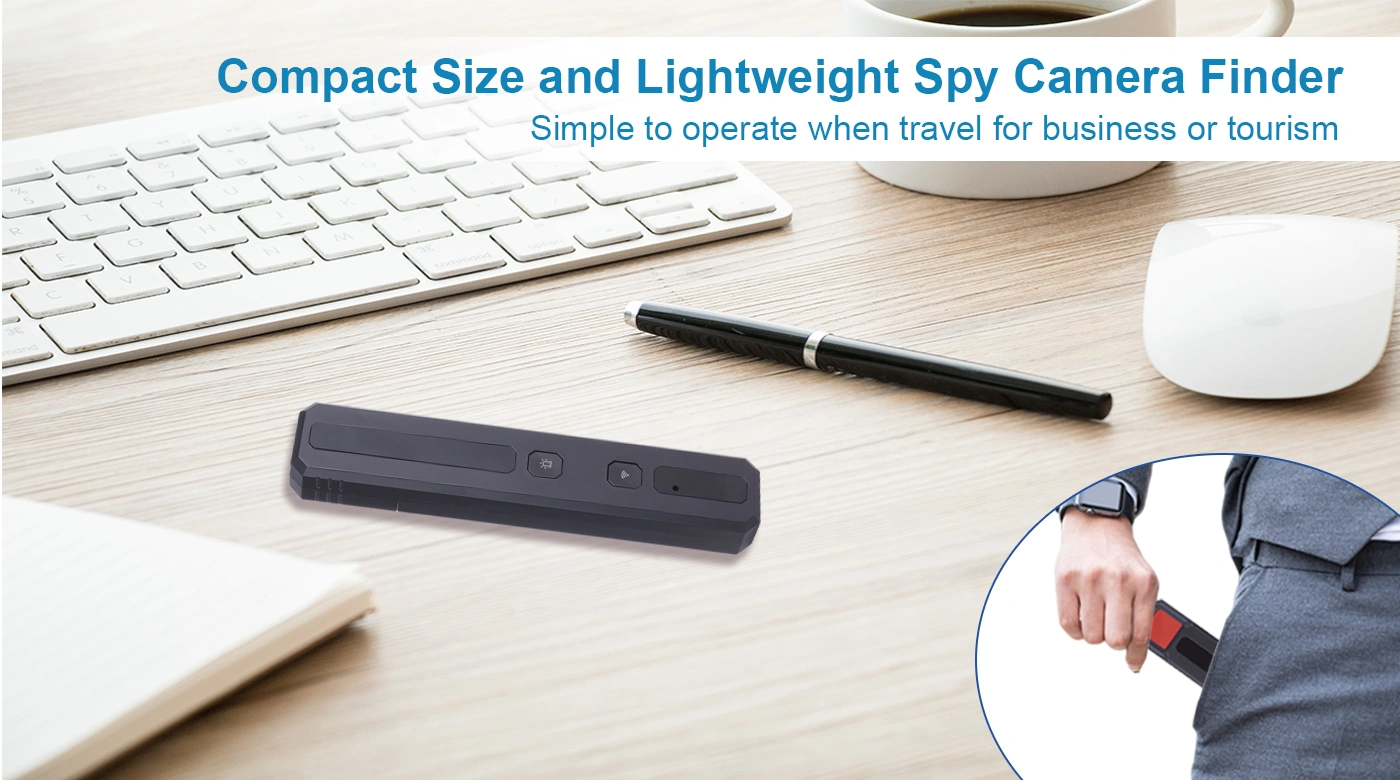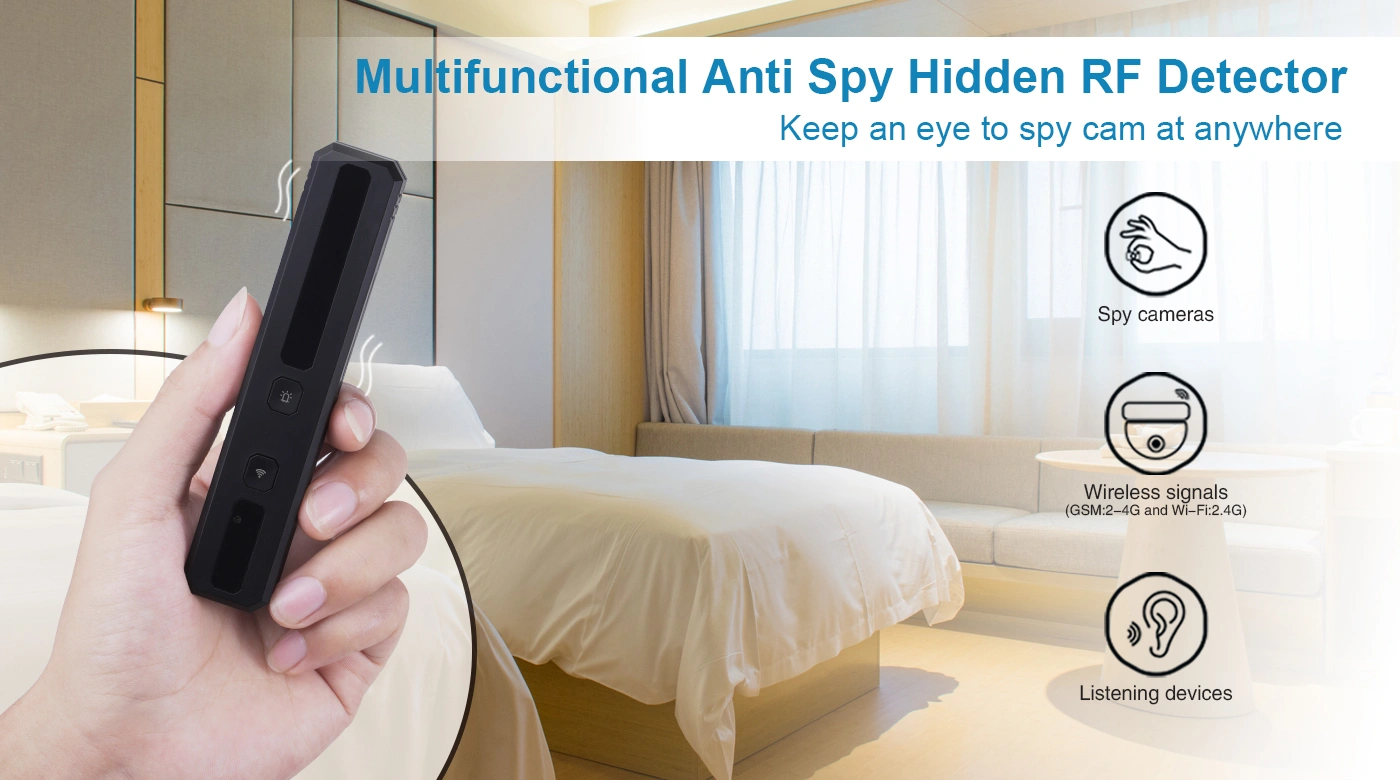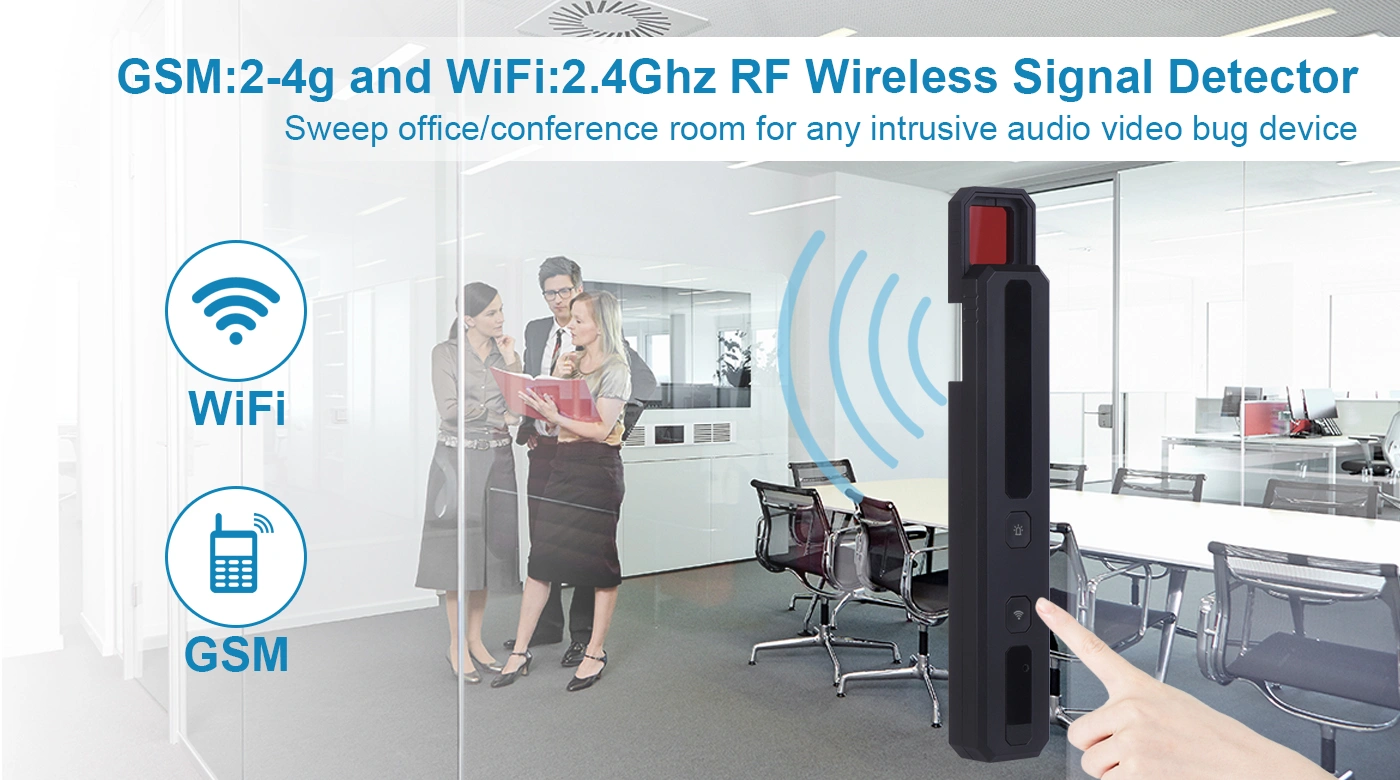 Hidden Spy Detector can easily detect hidden camera equipment in our home, office and travel to prevent your privacy from leaking.
Wireless Audio Detector It can detect all eavesdropping/wiretapping devices in a wide range of home&office&travel. It offers great safety to your privacy.
Easy Operate With just two buttons, you can easily switch the mode to radio wave detection, RF wireless signal detection and hidden camera detection.
Signal detection Can detect wireless signals (GSM:2.4G-4G/Wi-Fi: 2.4Ghz). Help you trust the surrounding environment.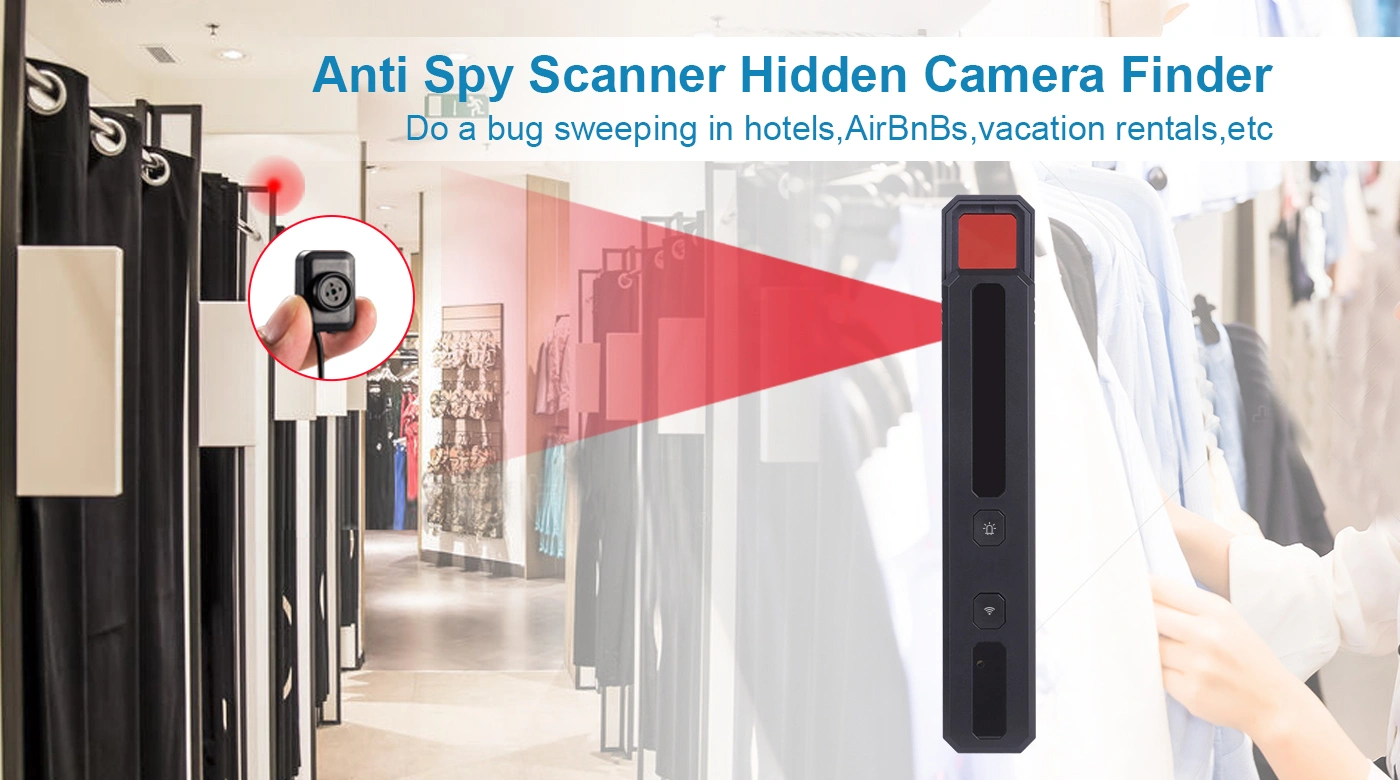 Anti Spy Detector Ultra-sensitive - with upgraded ultra-sensitive chips, can adjust the sensitivity with a according to the actual demand. it can find the receiving end of the WIFI cameral. Hidden camera detector safeguards your home office travel privacy and secrets.
Portable Detector Pen Slim like a pen(size: 2.4*1.5*12.3cm), it can be carried with you.
Delivery:Usually, if payments arrived.
Sample orders can be shipped out within 1-3days;
Neutral bulk orders within 3-10days;
OEM orders around 30-60days.
Shipping:We use our forwarder agent of DHL UPS FedEx etc...
Serving:Tutorial videos
Quick guide
Full set of marketing files: Pictures, Manuals, Diecut, etc...
Online product training (If need)
Real time technical support

Q: What purpose and where scene to use this camera detector?
A: Detect any place you think there is a hidden device to spy on you. It can protect your privacy more securely.
Q: What does it do?
A: It can detect any device that transmit wireless signal , for example , Eavesdropping equipment,dictograph; covert listening device,hidden camera equipment,wireless eavesdropping and hidden cameras equipment.
Q: Is it accurate to detect the spy camera?
A: This security camera jammers can precisely detect the hidden cameras through the laser lens..
Q: How can I find a hidden camera?
A: Turn on the light. When looking through the lens any bright return spot can be a suspected camera lens.
Q: Does it require wifi or internet to use?
A: Nope, it doesn't need wifi or any internet.
Q: Will this detect audio recording devices?
A: If the device is emitting electromagneting signals, it can detect.
Q: Does it block listening signals?
A: Absolutely not. Our detector is signal detector that can detect and respond to RF signals, however, it can't block any signals.