4 in 1 Wireless Speaker Hidden Camera
AI-IP019
2.0 Mega Pixel CMOS Lens
6 meters Powerful night vision
Wi-Fi P2P Live streaming Video
Stereo Wireless Bluetooth Music Speaker
Stylish Wireless Charger
Supply Ability
1000piece / Month
Country of Origin
shenzhen,china

The Full HD 1080P Security Wi-Fi Camera was launched on the end of 2018, it takes half a year and lots of effort to develop;
It's stylish and advanced design, perfectly combine high tech and market trend wireless charger and enhanced stereo speaker; It streams online video remotely and locally with real time motion detection alarm to smartphone by free APP;
What's more,it has only 1pcs infrared light for 6 meters invisible night vision, no longer worry about recording even in total darkness.
It's ideal to being as a household daily electronics to streamline lifestyle, but also the loyal guard of safety and property within reach.

2.0 Mega Pixel CMOS Lens
HD 1080P 1920*1080
6 meters Powerful night vision
Wi-Fi P2P Live streaming Video
H.264 video compressed format
Stereo Wireless Bluetooth Music Speaker
Stylish Wireless Charger
Motion detection & Push alarm notification
Support Max 128GB Micro SD Card
Certificates: CE,RoHs

Invisible night vision 6Meter
Stereo Wireless Bluetooth Music Speaker
Stylish Wireless Charger
WiFi Live Streaming video
P2P LAN view in 50m without block
Motion detection & Push alarm msgs
Chipset:Hi3518E V200
Lens:OV9712
2.0 mega pixel CMOS lens
Video resolution: 1920*1080
Photo Resolution 1920*1080
Frame: 25FPS
H.264 video compressed format
Lens angle: 120 degree
Support Micro SD card 4GB-128GB
Computer operation system: Windows
Mobile phone operation system: Android/iOS
Web browser: IE7 and above,chrome,firefox safari.etc
1min/6Mb,1hour/360Mb
CE ROHS approved
Packing List:
1 x Bluetooth Speaker Hidden Camera
1 x User manual
1 x 12V2.5A DC Power adapter
1 x Micro SD card reader
1 x Reset pin
Product size:18.8*12.4*8(CM)
Color box Size: 27.6*16*9.5(CM)
Weight of a Unit : 1.25(KG)
10pcs each Carton
Carton size: 41*38*32(CM)
G.W. of a Carton:12.5(KG)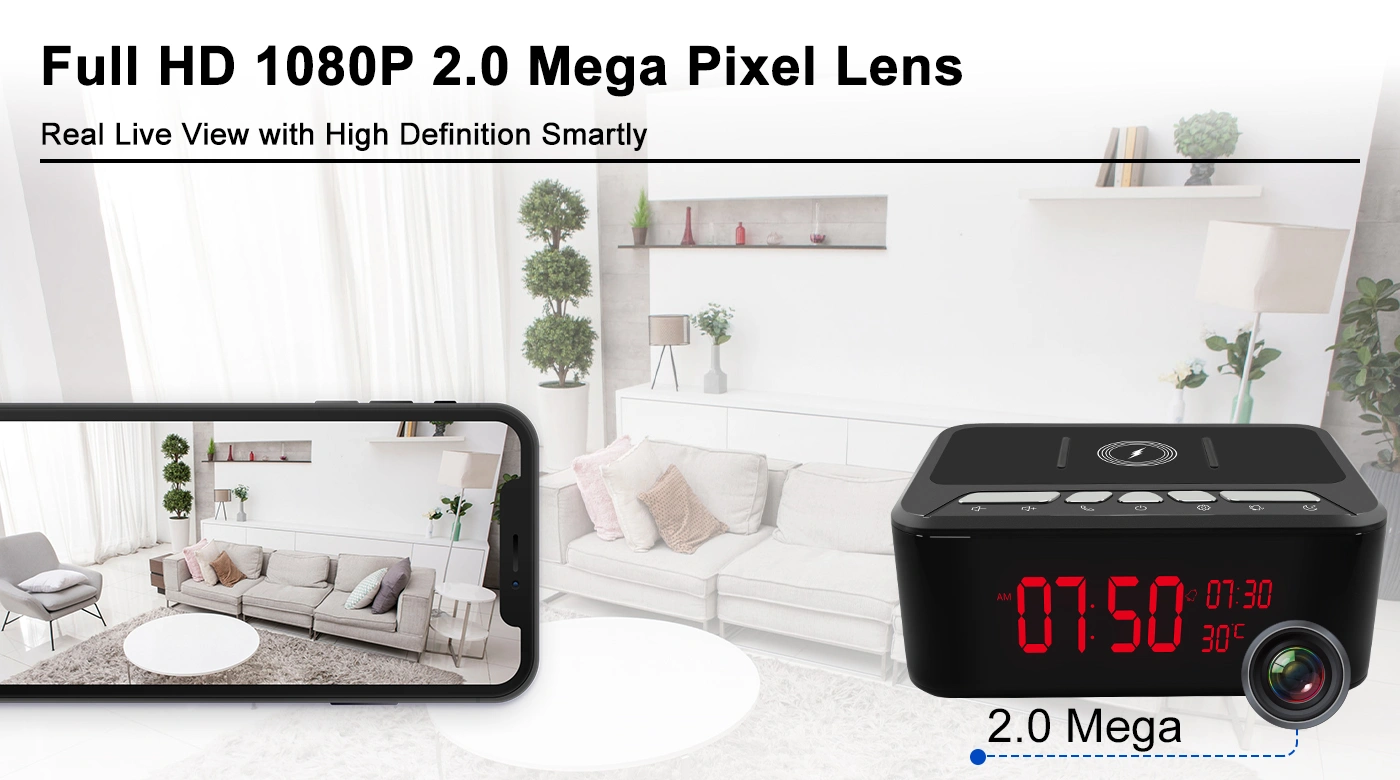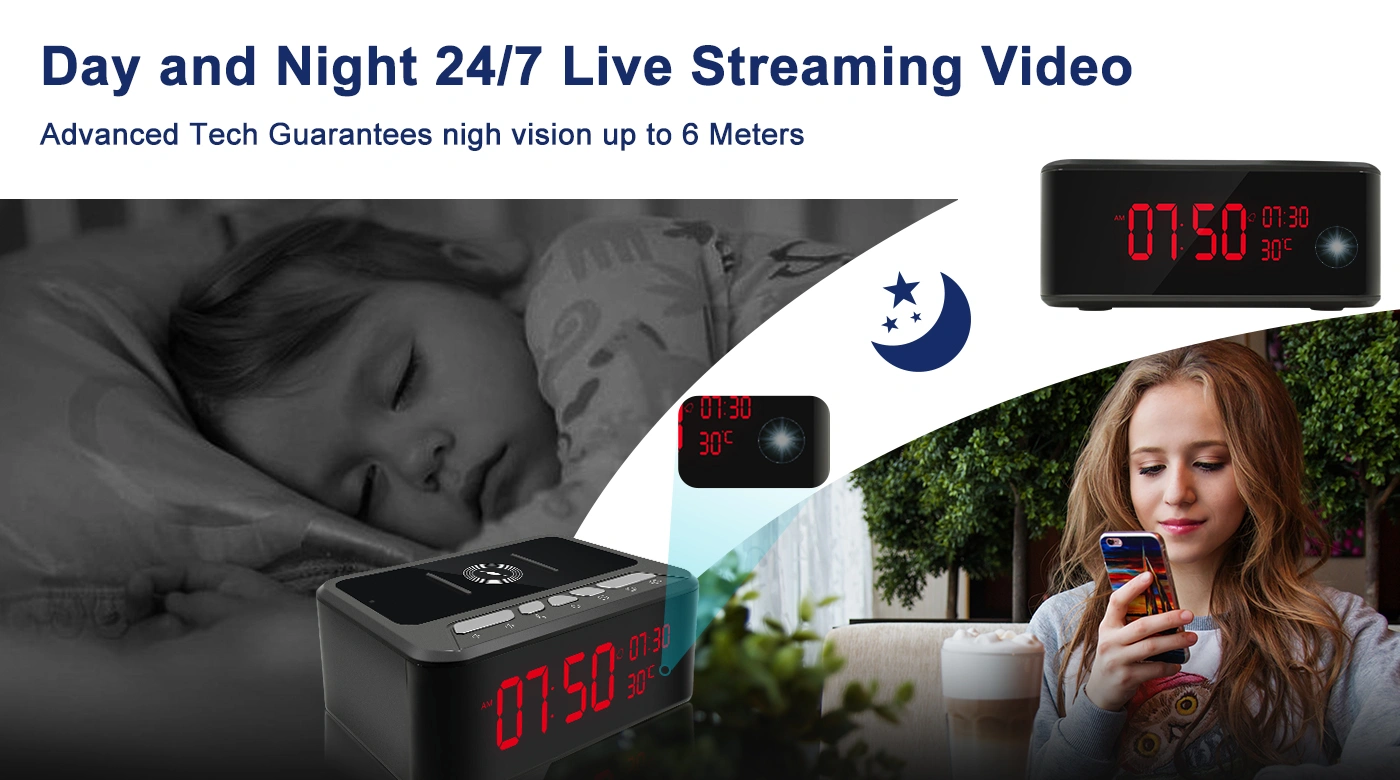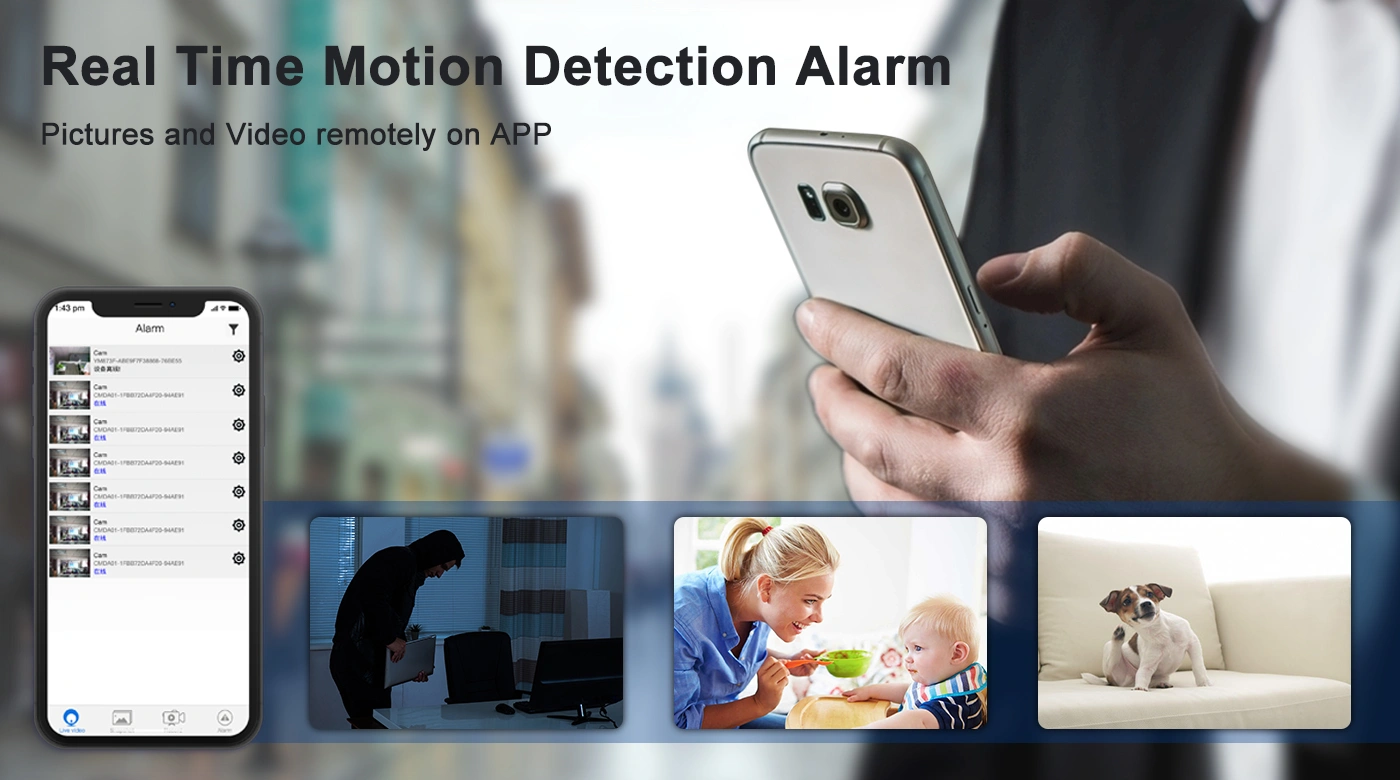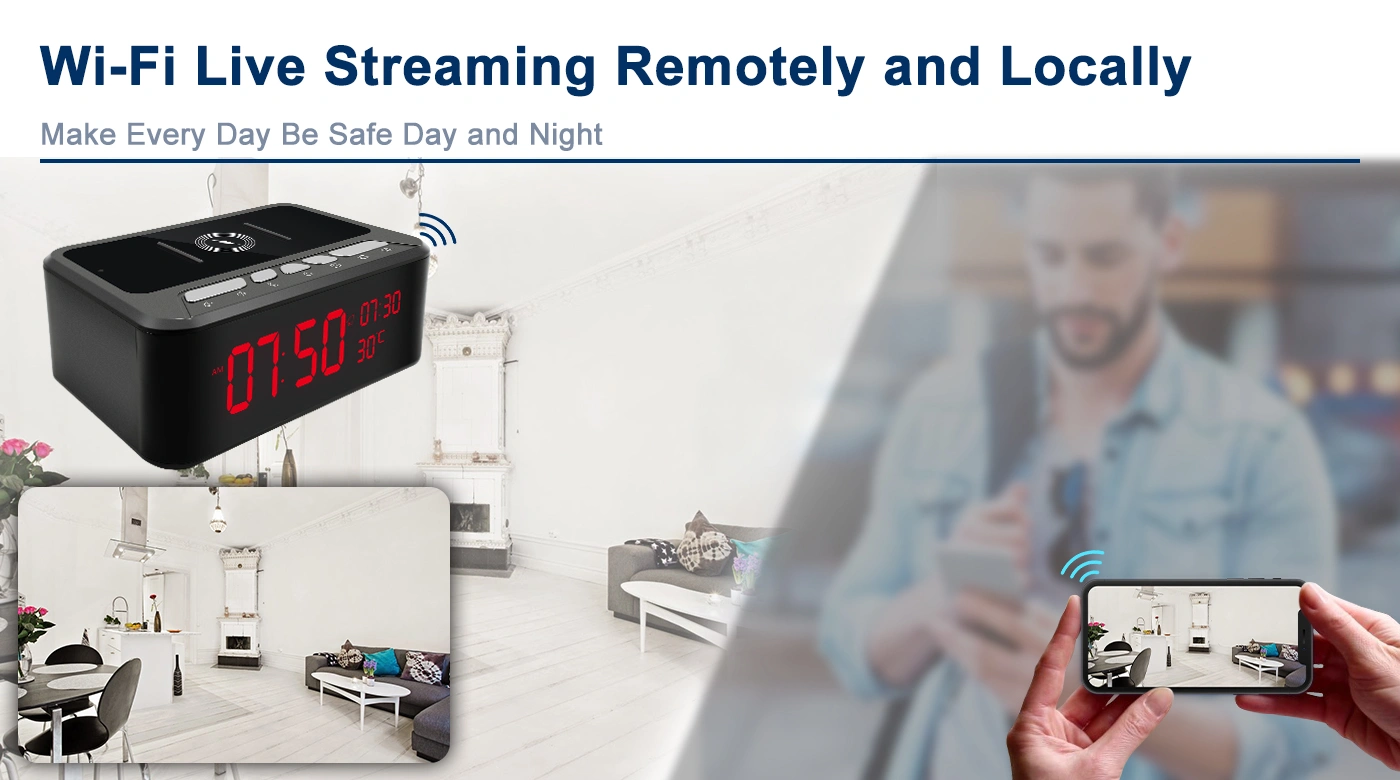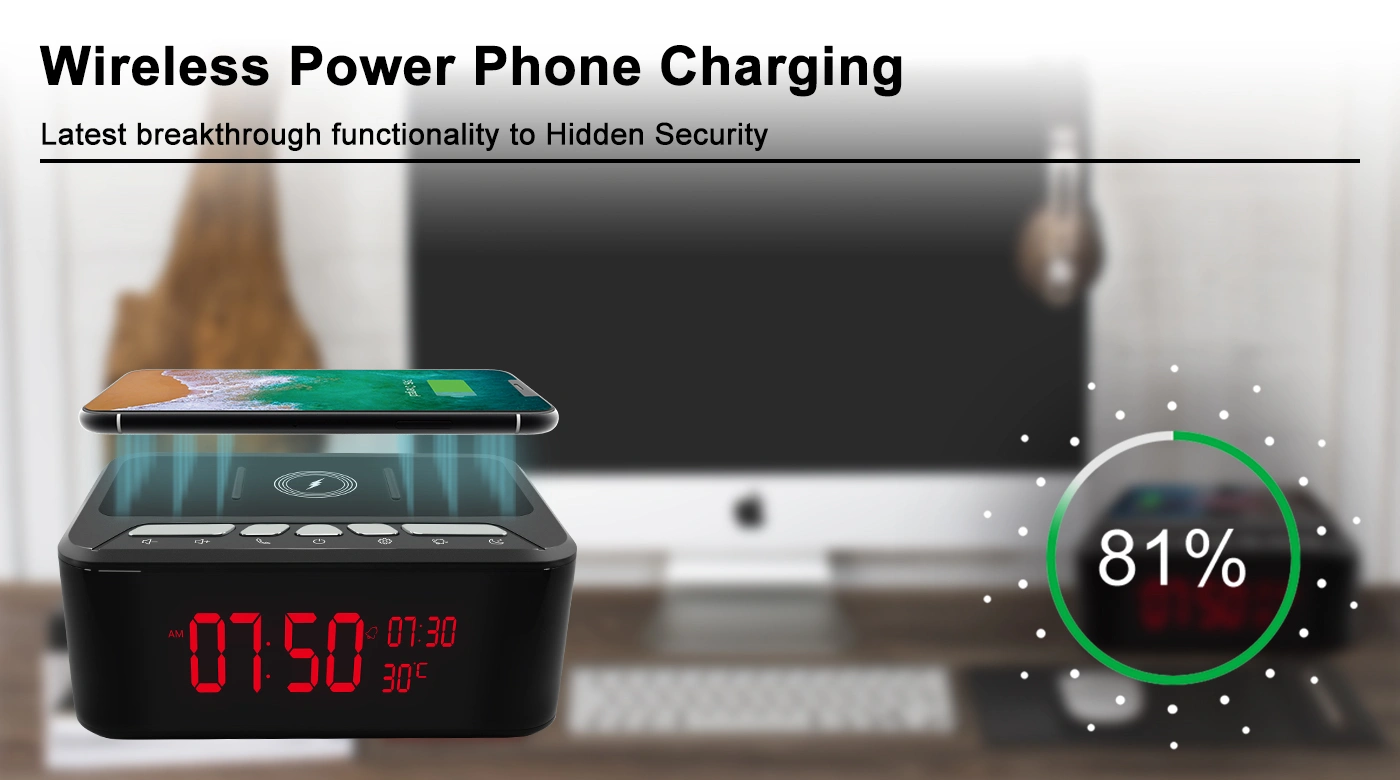 FAQ
Question: How clear is the camera footage from the 4-in-1 Speaker Hidden Camera? Answer: Our hidden camera delivers high-definition video footage ensuring clear and crisp images. You'll be able to clearly see and monitor any activity in the camera's field of view.

Question: Can I access the camera remotely? Answer: Yes, our 4-in-1 Speaker Hidden Camera provides remote access. This feature allows you to view real-time footage from your smartphone or computer no matter where you are, providing you with constant monitoring capabilities.

Question: Is it difficult to set up the 4-in-1 Speaker Hidden Camera? Answer: Not at all. Our product is designed to be user-friendly and comes with a detailed instruction manual. Additionally, our customer service team is always ready to assist you with any setup queries you may have.

Question: Is the camera noticeable? Answer: Our product prides itself on being discreet. The camera is well-hidden within the speaker-cum-clock-cum-wireless charger design, making it almost impossible for anyone to suspect it as a surveillance device.

Question: What happens if the 4-in-1 Speaker Hidden Camera runs out of storage? Answer: The camera supports loop recording. This means that when the storage space is full, the camera will automatically overwrite the oldest files to make room for new recordings. This ensures continuous recording without having to manually delete files.
Remember, at Aishine, we strive to provide comprehensive surveillance solutions that meet your needs while prioritizing quality, service, and user experience. If you have further queries, please don't hesitate to contact our customer service team.